Vintage Audio Restoration
With fifteen years experience, I specialize in vintage, solid state audio restoration. I perform work on all major brands from the "Golden Age" of audio with quality parts from factory authorized distributors. I hold nothing back on restorations using the best possible part for the job that it is assigned. I pride myself on a "Factory Presentation" in all of the work I perform.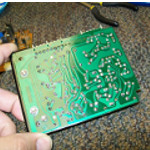 I specialize in the restoration of amplifiers, preamplifiers, tuners, integrated amplifiers, and receivers. I only want to see your component one time. I find that a complete restoration is the best approach with all vintage equipment. Click the run-down link for details on the work you'll be receiving.
Giving an estimate without having the equipment to visually inspect can be difficult. However, I can possibly give a "Ball Park" estimate based on the item and symptom you describe. Previous sub-standard work done by an unprofessional can add to your estimate and increase the total cost. Actual estimates will be given prior to work performed.
Waiting Time
Please inquire about wait times because they are in a constant state of flux.
Please contact me for shipping information.